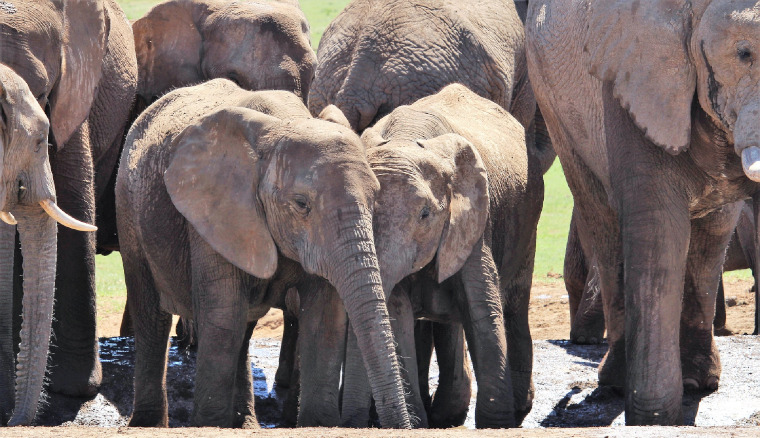 Rates from USD 4,062.18
Starts from: Johannesburg OR Tambo
Visited countries: South Africa
Visited areas: JohannesburgKrugerKwazulu Natal
Itinerary type: ClassicPrivate Game Reserve
Transport: Guided tours
Day
Transfers & visits
Meal plan**
Overnight
Cat.*
1
Meet and Greet • Durban Golden Mile
L
D
B
B
Hluhluwe: Zulu Nyala Heritage Safari Lodge
4
2
St Lucia Safaris • Cultural • 4x4 Afternoon Game Drive
L
D
B
B
Hluhluwe: Zulu Nyala Heritage Safari Lodge
4
3
Lavumisa Discover • Manzini Market • Swazi Candles • Ngwenya Glass Factory
L
D
B
B
Swaziland: Mantenga Lodge
3
4
Piggs Peak Discover • Lunch at Own Expense • Kruger South Afternoon Game Drive • Kruger 4x4 Afternoon Game Drive(o)
D
B
B
Kruger: Pine Lake Inn
3
5
Blyde River Canyon and Potholes • 4X4 Afternoon Game Drive
L
D
B
B
Kruger (Karongwe): Chisomo Safari Camp
4
6
Morning 4x4 Game Drive • Pilgrims Rest
L
D
B
B
Johannesburg area: Zulu Nyala Country Manor
4
7
Pretoria Orientation Tour • Soweto Tour • Museum: Apartheid Museum • End of our services
L
| | |
| --- | --- |
| (o) | Transfers, visits and meals followed by the (o) symbol are optionals with rates shown separately. |
| * | The category shown is not necessarily the official star grading of the hotel as some hotels have no grading. It reflects our opinion on the hotel category according to local standards. |
| ** | Included meals: L Lunch, D Dinner, B Accommodation, B Breakfast. Followed by (o) when the meal is optional. |
Your Itinerary
| | |
| --- | --- |
| Day | Transfers & visits |
| 1 | Meet and Greet • Durban Golden Mile |
| 2 | St Lucia Safaris • Cultural • 4x4 Afternoon Game Drive |
| 3 | Lavumisa Discover • Manzini Market • Swazi Candles • Ngwenya Glass Factory |
| 4 | Piggs Peak Discover • Lunch at Own Expense • Kruger South Afternoon Game Drive • Kruger 4x4 Afternoon Game Drive(o) |
| 5 | Blyde River Canyon and Potholes • 4X4 Afternoon Game Drive |
| 6 | Morning 4x4 Game Drive • Pilgrims Rest |
| 7 | Pretoria Orientation Tour • Soweto Tour • Museum: Apartheid Museum • End of our services |
| | |
| --- | --- |
| (o) | Transfers, visits and meals followed by the (o) symbol are optionals with rates shown separately. |
| ** | Included meals: L Lunch, D Dinner, B Accommodation, B Breakfast. Followed by (o) when the meal is optional. |
Overnight
| | | |
| --- | --- | --- |
| Day | Overnight | Cat.* |
| 1 | Hluhluwe: Zulu Nyala Heritage Safari Lodge | 4 |
| 2 | Hluhluwe: Zulu Nyala Heritage Safari Lodge | 4 |
| 3 | Swaziland: Mantenga Lodge | 3 |
| 4 | Kruger: Pine Lake Inn | 3 |
| 5 | Kruger (Karongwe): Chisomo Safari Camp | 4 |
| 6 | Johannesburg area: Zulu Nyala Country Manor | 4 |
| 7 | | |
| | |
| --- | --- |
| * | The category shown is not necessarily the official star grading of the hotel as some hotels have no grading. It reflects our opinion on the hotel category according to local standards. |
D1: Johannesburg OR Tambo - Hluhluwe
Meet and Greet • Durban Golden Mile
-
Flight Arr 00:00 Johannesburg - Durban (Economy Class) (Optional rates: D1:Flight Johannesburg - Durban)
-
Meet and Greet at Durban airport.
-
Embark on your guided tour aboard your minibus: He will accompany you all along your circuit from Durban airport (Day 1) to Johannesburg OR Tambo (Day 7)
-
Discover Durban's 'Golden Mile'. This six-kilometre long stretch of sandy beach starts roughly at South Beach and uShaka Marine World and ends at the Suncoast Casino and Entertainment World to the north. The Golden Mile is also a huge pleasure resort with dozens of swimming and splash pools, fountains and waterslides, curio markets and merry-go-rounds, uShaka Marine World, exotic restaurants, nightclubs and many hotels and apartment complexes directly at the beach. Swimming is good during most of the year due to the warm, subtropical climate, and the beaches are well monitored and protected by shark nets. An unusual feature at the Golden Mile is the Zulu Rikshas. The vehicles and their drivers are colourfully decorated. For a small fee, you can let yourself be pulled along the beach promenade.
12:30
-
Lunch: Jaipur Palace On Broadway
-
Travel to Hluhluwe
-
Dinner: Zulu Nyala Heritage Safari Lodge
-
Overnight: Zulu Nyala Heritage Safari Lodge (Standard Room - Dinner, Bed and Breakfast)

D2: Hluhluwe
St Lucia Safaris • Cultural • 4x4 Afternoon Game Drive
-
Breakfast
08:00
-
Mingle with hippos and crocodiles on a boat cruise in the St Lucia Estuary. Located within the iSimangaliso Wetland Park, this estuary forms part of natural World Heritage Site and is filled with amazing creatures both big and small. It teems with crocodiles and hippos and during your tour you will see at least 2-3 breeding pods of hippopotami and approximately 25-30 locally based crocodiles that patrol the 10 kilometres of water that the boat explores. The specially designed pontoon boat features an extra wide, flat bottom enabling it to get exceptionally close to the river bank for great wildlife sightings. Your experienced skipper will be ready with interesting information about the flora and fauna of the area as you sit back and enjoy the cruise, also presenting scores of birds that thrive amongst the coastal dune forests and wetlands.
-
Experience traditional hospitality at the DumaZulu Cultural Village. This informative and authentic Zulu village is located in Hluhluwe, KwaZulu-Natal, offering visitors a peek into the lifestyle and culture of the Zulu nation. The village acts as a living museum of traditional Zulu customs, crafts and way of life where you can feel the beat of the Zulu drums and discovery the rich cultural significance of the tribe's famous beadwork, weaving and pottery that intricately integrate Zulu social values. The village is the largest in South Africa and not only affords guests the opportunity to learn about the rich history of tribal Africa but also serves as a means for the local community to continue practicing their rural ways of living as well as earning an income from selling their crafts. Enjoy stepping into the life of this colourful and friendly tribe and be awed by their fantastic and energetic dancing abilities. Your visit includes an African lunch.
-
Lunch: Dumazulu Traditional Village & Lodge
16:00
-
Search for wildlife on the hills of Hluhluwe with a 4x4 afternoon game drive. This magical reserve is the oldest in South Africa and reminds one of what Zululand must have been like many years ago when wild animals roamed freely and were plentiful. The incredibly scenic and diverse landscape is filled with a wide variety of wildlife and stretches over thousands of hectares of rolling hills and open savannah plains. The Big Five are found in abundance and the reserve is also world renowned for its efforts towards rhino conservation, having some of the largest populations of black and white rhino in the country. Your afternoon game drive will step up the pace as you go in search of predators such as lion, leopard, cheetah, hyena and the rare African wild dog. As darkness falls spotlights illuminate the way and rangers communicate via radio to ensure fresh kills are easily located.
-
Dinner: Zulu Nyala Heritage Safari Lodge
-
Overnight: Zulu Nyala Heritage Safari Lodge (Standard Room - Dinner, Bed and Breakfast)
D3: Hluhluwe - Swaziland
Lavumisa Discover • Manzini Market • Swazi Candles • Ngwenya Glass Factory
-
Breakfast
-
Travel to Swaziland
-
Admire the contrasting landscape of Lavumisa while traversing Swaziland. This tiny, independent country is locked between the provinces of Mpumalanga and KwaZulu-Natal in South Africa, and Mozambique. The plains in the south-western part of Swaziland contrast sharply with the mountainous landscapes of the north and here you will discover lush sugarcane fields alternating with bush savannah dotted with Swazi kraals. Near the southern border post of Lavumisa, the Lubombo Mountains loom majestically in the near distance. This sweeping mountain range covers practically the entire eastern side of the country and forms the natural border between Swaziland and Mozambique.
-
Behold a kaleidoscope of colour at the Manzini Market. The main tourist drawcard in the village of Manzini is its colourful and lively market, filled with community craft and a great variety of locally made, unusual and unique goods. This bohemian and eclectic space is typical of an African market, filled with a daily buzz of activity and colourful stalls selling everything from fruit and vegetables to traditional medicines, herbal cures to ailments, and a versatile mix of traditional and contemporary artefacts. Handicrafts from Swaziland and elsewhere in Africa are all on display with many of the stalls operated by women who manufacture their wares at their villages and make their way to the market to sell them. The market is closed on Sundays and public holidays.
13:00
-
Lunch: Sambane Coffee Shoppe
-
Wax lyrical about the Swazi candlemakers at Malkerns. From its humble beginnings in an old cowshed the Swazi Candle Factory today exports beautiful candles throughout the world and holds the esteemed reputation of producing an amazing assortment of handcrafted wax wares. On any given weekday you will be able to view the approximately 200 craftspeople as they go about the process of moulding the pigmented wax into fascinating shapes and sizes, ranging from traditional shaped candles to African animal forms. Each candle is hand-finished, meaning that no two candles will ever look exactly the same. Swazi Candles is one of the most famous handicraft outlets in southern Africa and a favourite stop for visitors looking for gifts and souvenirs to take home.
-
Admire glass-masters at work at the Ngwenya Glass Factory. This glass blowing factory forms the central hub of an arts and craft village in Swaziland where visitors can watch craftsmen at work as they shape and mould molten glass into a variety of gorgeous pieces. The factory makes use of approximately 500 kg of recycled glass a day that is crushed down and then melted in a furnace before the upcycle process begins and the hot glass lava is transformed into new and beautiful shapes. As part of Ngwenya's social upliftment programme, community members ranging from school children to adults are encouraged to collect discarded glass objects and bring them to the factory in return for payment. The village is also home to numerous other arts and crafts outlets, restaurants, cafes and a children's playground area, making for an ideal family outing.
-
Dinner: Mantenga Lodge
-
Overnight: Mantenga Lodge (Sheba Room - Dinner, Bed and Breakfast)

D4: Swaziland - Kruger
Piggs Peak Discover • Lunch at Own Expense • Kruger South Afternoon Game Drive • Kruger 4x4 Afternoon Game Drive(o)
-
Breakfast
-
Travel to Kruger
-
Traverse the mountains towards Piggs Peak. Tucked away in the north western corner of Swaziland, Piggs Peak is a region once made famous for its spectacular gold mining and now an important supplier of timber. The beautiful mountainous landscape has led to the area often being referred to as the 'Switzerland of Africa', filled with sparkling waterfalls, three of the highest peaks in the Kingdom of Swaziland, Bushmen paintings, nature reserves and picturesque indigenous bushland. The town itself is filled with colourful African art and craft shops while slightly further afield you will find the historic Bulembu village, Emlembe, the highest mountain in Swaziland and the Maguga Dam.
-
Lunch at own expense.
-
Marvel at the bounty of nature on an afternoon game drive in the Kruger National Park. Your drive will take place in the southern sector of the park in your tour vehicle as you experience the exceptional diversity of the wildlife and vegetation of the Kruger. The southern region is richly stocked with a wide variety of game as grazers flock to the area in search of sweet grass and predators follow hotly on their heels. Large herds of buffalo and zebra are often easily spotted while some of the special and rare sightings include the mountain reedbuck, oribi, Lichtenstein's hartebeest and grey rhebok. Klipspringers grace the granite koppies and bake in the late afternoon sun. The massive park covers almost 20 000 square kilometres and is part of the Kruger to Canyons Biosphere Reserve, South Africa's largest conservation area.
16:00
-
Afternoon 4x4 game drive in the Kruger National Park, one of the most diversely rich game reserves in Africa. The massive park covers almost 20 000 square kilometres and has nine main entrance gates that lead to different camps within the reserve. It is also part of the Kruger to Canyons Biosphere Reserve and is South Africa's largest conservation area. It is home to the Big Five as well as all of the country's large carnivores and boasts the highest populations in South Africa of a number of game species, including buffalo, elephant and white and black rhino. Bird watching is a popular activity in the Kruger, offering good sightings throughout the year, with a number of bird species found here that are more highly numbered than anywhere else in South Africa. These include the martial eagle, kori bustards and bateleurs. (Optional rates: D4:Kruger 4x4 Game Drive Half Day)
-
Dinner: Pine Lake Inn
-
Overnight: Pine Lake Inn (Standard Room - Dinner, Bed and Breakfast)

D5: Kruger - Karongwe
Blyde River Canyon and Potholes • 4X4 Afternoon Game Drive
-
Breakfast
-
Travel to Kruger
-
Make your way towards the Blyde River Canyon and Bourke's Luck Potholes. This seemingly endless river canyon is filled with some of the most beautifully scenic vistas in South Africa. The Bourke's Luck Potholes mark the beginning of the canyon and comprise intriguing geological formations at the confluence of the Blyde and Treur rivers. The canyon itself is 3rd largest in the world, covered in lush sub-tropical vegetation with an average depth of 750 metres and 25 kilometres in length. It consists mostly of red sandstone and has some of the deepest precipitous cliffs of any canyon on the planet.
-
Arrival in Karongwe Private Game Reserve. Deep within the naturally scenic province of Limpopo and just 40 minutes east of the Kruger National Park, the Karongwe Private Game Reserve and its exceptional lodges are set within a wild and whimsical landscape. The lush countryside is dotted by small hills and an enormous variety of trees, creating the perfect scene for photography enthusiasts looking to capture quintessential African images. All the major mammal species are present in the reserve with regular sightings of giraffe, wildebeest, rhino and zebra, while at night nocturnal animals such as aardvark, bush baby, genet and porcupine emerge from the shadows to graze. Evenings are lit by thousands of stars, and dramatic sunsets end exciting days, giving you a glimpse into the soul of Africa. (Activities included in your package as per program below.)
-
Lunch: Chisomo Safari Camp
-
Afternoon 4x4 game drive.
-
Dinner: Chisomo Safari Camp
-
Overnight: Chisomo Safari Camp (Safari Suite - Fully Inclusive)
D6: Karongwe - Johannesburg
Morning 4x4 Game Drive • Pilgrims Rest
-
Morning 4x4 game drive.
-
Breakfast
13:00
-
Lunch: Royal Hotel Pilgrims Rest Restaurant
Enjoy lunch in the village that sparked the biggest gold rush of all time in South Africa at the Royal Hotel in Pilgrim's Rest. This historic and alluring village is also a national monument where once alluvial gold was found in the stream that runs through the valley. The discovery led to one of the largest gold rushes of all time and gold was panned in the village until 1972. Today, Pilgrim's Rest is a living museum holding many buildings from the gold rush period that have remained architecturally unchanged for over a century. The quaint Royal Hotel brings the bygone to present time with an authentic setting harking back to the Victorian era. Consisting of 10 buildings, the hotel still echoes the ambience of the past, and the restaurant, also furnished in Victorian style, serves informal yet hearty old-fashioned meals.
-
Travel to Johannesburg
-
Step back in time at Pilgrim's Rest. This quaint little village is situated on the magnificent Panorama Route in Mpumalanga and stands as a tribute to the gold panning days of the late 1800s. The entire town is now a national monument with many historical and relatively untouched sites to visit. Walk through the streets that the famous dog Jock of the Bushveld used to call his own and visit pubs where gold nuggets were once used to pay for drinks and diggers, rogues and good time girls all congregated. Besides its many interesting museums, Pilgrim's Rest is also home to a vast assortment of antique shops selling a variety of collectables, arts, crafts and curios. Enjoy walking in the footsteps of the early gold prospectors as you relive the fascinating and occasionally dangerous days of pioneers, can-can girls, highway thieves and desperados hoping to make a quick fortune.
-
Dinner: Zulu Nyala Country Manor
-
Overnight: Zulu Nyala Country Manor (Standard Room - Dinner, Bed and Breakfast)

D7: Johannesburg - Johannesburg OR Tambo
Pretoria Orientation Tour • Soweto Tour • Museum: Apartheid Museum
-
Breakfast
-
Familiarise yourself with Afrikaans and African culture with a tour of Pretoria. The Jacaranda City, as Pretoria is fondly called, is the administrative and diplomatic centre of South Africa that once served as the headquarters for the old independent Transvaal Boere Republic. Here you will find some of the iconic landmarks that represent the old independent Transvaal as well as the new democratic South Africa. The Voortrekker Monument is a massive memorial ringed by ox wagons that commemorate the exodus of disillusioned Afrikaaners from the Cape, Church Square houses Die Raadsaal, the former parliament buildings of the Boer Republic, and the Paul Kruger House was the home of the Traansvaal Republic's president. The Union Buildings stand proud and tall, built in 1910 and now house the official seat of the South African government as well as a nine-metre statue of former president Nelson Mandela.
-
Get a taste of vibrant and gritty street life with a tour of Soweto. This township is located to the south-west of Johannesburg and is the biggest in the city, made famous for its role in the struggle against apartheid. Its roots trace back to the early days of gold mining when many migrant workers arrived in Johannesburg at the turn of the 20th century. As the ruling National Party tightened its hold on apartheid and forced black people out of white areas the township grew and today Soweto still supports close to 4-million people. Highlights of South Africa's political history to be found in Soweto include the Hector Pieterson Museum and Memorial, honouring the student protests of 1976; Walter Sisulu Square, where the Freedom Charter was signed; Vilakazi Street whose former residents includes two Nobel Peace Prize winners; and the brightly coloured Soweto Towers.
13:00
-
Buffet lunch: Sakhumzi Restaurant
Soak up the jovial atmosphere at this traditional African styled restaurant, nestled in the heart of Soweto in Orlando West's famous Vilakazi Street. The eatery was once an illegal bar or 'shebeen' during the apartheid era but is now a traditional local restaurant that specialises in African cuisine such as mogodu (tripe), mielie pap (corn flour) mutton stew, umleqwa (traditional-style steamed chicken) and much more. The area also has a rich historical background and Vilakazi Street in the only road in the world to have housed two Nobel laureates: Nelson Mandela and Archbishop Emeritus Desmond Tutu. Get chatting with the locals as you socialise and enjoy your traditional South African lunch.
-
Walk the path of racial segregation at the Apartheid Museum. This museum is dedicated to recounting the history of the rise and fall of apartheid in 20th century South Africa and focuses on the policy of racial segregation that was first enforced in the country in 1948, providing a very real image of what it was like to live in such a society. Repressive measures such as limiting the freedom of movement of non-whites and the Population Registration Act led to growing resistance from the disenfranchised and more punitive measures from the government, culminating in several state of emergencies being declared in the 1980s before apartheid was ended in the 1990s. The museum is suffused with personal narratives and whispered conversations that show a glimpse of the characters of people that helped shape our country, while interactive multimedia displays recreate the experience of racial segregation.